Oliver Laughland
Dr Anthony Fauci, America's top infectious disease expert, has told the US Congress he is "cautiously optimistic" that a "safe and effective" coronavirus vaccine will be available to the public by the end of 2020 during a hearing in Washington marked by testy exchanges between Fauci and senior Republicans loyal to Donald Trump.
Fauci told US lawmakers on a House of Representatives subcommittee examining the Trump administration's response to the pandemic that he was skeptical of fast-track vaccine efforts in Russia and China, suggesting the US would not need to depend on other countries for its own vaccine.
"We hope that by the time we get into late fall and early winter, we will have in fact a vaccine that we can say that would be safe and effective. One can never guarantee the safety or effectiveness unless you do the trial, but we are cautiously optimistic this will be successful," Fauci said in prepared remarks.
He later added: "I do hope that the Chinese and the Russians are actually testing the vaccine before they're administering the vaccine to anyone. I do not believe that there will be vaccines so far ahead of us that we will have to depend on other countries to get us vaccines."
The World Health Organisation said today that coronavirus pandemic effects would be felt for decades as its emergency committee assessed the situation six months after sounding its top alarm over the outbreak, AFP reports.
The virus has killed nearly 675,000 people and infected at least 17.3 million since it emerged in China last December, according to a tally from official sources compiled by AFP.
The WHO's emergency committee, comprising 18 members and 12 advisers, was meeting on Friday for the fourth time over the COVID-19 crisis.
WHO chief Tedros Adhanom Ghebreyesus opened the meeting saying:



It's sobering to think that six months ago, when you recommended I declare a public health emergency of international concern (PHEIC), there were less than 100 cases and no deaths outside China.



The pandemic is a once-in-a-century health crisis, the effects of which will be felt for decades to come."
The committee can propose new recommendations or amend existing ones.
It has been sharply criticised for the length of time it took to declare an international emergency.
The United States, which accused the organisation of being too close to China, officially began its withdrawal from the organisation in July.
The agency has also been criticised for recommendations deemed late or contradictory, in particular on wearing masks, or the modes of transmission of the virus.
Tedros said:



Many scientific questions have been resolved; many remain to be answered.



Early results from serology studies are painting a consistent picture: most of the world's people remain susceptible to this virus, even in areas that have experienced severe outbreaks.



Many countries that believed they were past the worst are now grappling with new outbreaks. Some that were less affected in the earliest weeks are now seeing escalating numbers of cases and deaths. And some that had large outbreaks have brought them under control."



Although vaccine development is happening at record speed, we must learn to live with this virus, and we must fight it with the tools we have.
Peruvian authorities and the Pan American Health Organization are investigating whether the country failed to count 27,253 deaths caused by the coronavirus, a figure that could more than double the country's official death toll from COVID-19, AP reports.
Peru already has one of the world's highest tolls from the disease. If a large number of the suspected cases are confirmed, Peru's death toll could surpass those of larger countries such as Spain, France and Italy.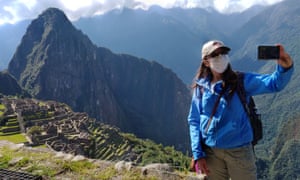 Health Minister Pilar Mazzetti announced Thursday night that thousands of death certificates list COVID-19 as one of several causes of death, but they were not included in the country's official toll because the victims did not undergo a coronavirus test before dying.
She said that Peru had only listed 19,021 victims as dying from COVID-19 because international standards required both a death certificate listing coronavirus and a positive test for the disease in order for a death to be included in official statistics.
She described the new review as part of an ongoing process of updating and verifying the country's death statistics, but analysts said it appeared the government was responding to increasing public skepticism of the country's figures on the disease.
Many Latin American countries are grappling with alleged undercounts of their Covid-19 death tolls, but Peru's more than 27,000 possibly uncounted deaths appears to be one of the highest.
The nation of some 32 million people confirmed its first case on March 19 and conducted very little testing in the first few months of the epidemic. Opposition politicians have accused Presidente Martín Vizcarra of deliberately hiding the true toll of the disease in Peru, a charge he has rejected. He said last week that the arrival of the disease was "so abrupt that it generated chaos'' and imprecise counting of the death toll.
Greece has announced another extension to the end of August of a controversial lockdown on its overcrowded migrant camps as infections in the country pick up.
The lockdown on camps introduced in March will now be extended until August 31 "to prevent the emergence and dispersal of coronavirus cases," the migration ministry said in a statement.
Greece, with 203 Covid-19 deaths, has so far not been as badly hit as many other European countries – and there have been no deaths in the migrant camps, AFP reports.
But the presence of more than 26,000 asylum seekers on the five Aegean islands – in camps with capacity of under 6,100 – has caused major friction with local communities.
The reopening of Greek airports and borders to tourism, accompanied by the removal of lockdown restrictions for the general population, has led to an increase in cases.
Summary
Here's a summary of the latest coronavirus developments:
The Hong Kong government has postponed its upcoming elections for one year, citing the growing coronavirus outbreak in the city but sparking immediate accusations that the pandemic was being used as a pretext to suppress democracy. The city's leader, chief executive Carrie Lam, announced on Friday she had invoked emergency regulations to delay the 6 September vote, saying it was the "hardest decision I have made in the past seven months".
UK prime minister Boris Johnson has reversed a decision to further relax lockdown restrictions in England from Saturday, as the chief medical officer says the country is "at the outer edge" of how far society can reopen with coronavirus. Speaking at a hastily arranged Downing Street press conference, the prime minister said he was pausing the reopening of leisure businesses, such as casinos and bowling alleys, and preventing beauty salons resuming close-up treatments, for at least two weeks.
Germany has added three northern Spanish regions to its list of high-risk destinations, meaning anyone arriving from those areas will have to produce a negative coronavirus test or go into quarantine for 14 days. Germany's foreign ministry said it had toughened up its warning against travel to the regions of Catalonia, Navarre and Aragon following a spike in Covid-19 cases there.
Lithuania is to impose quarantine on arrivals from France starting Monday after a surge in coronavirus cases there.
Some French cities are expected to introduce additional face mask requirements. From Friday in Orleans, in central France, masks will be required in open-air markets and after 9pm along the Loire river, where crowds of people have been gathering in the evenings. The mayors of Bayonne and the nearby Atlantic resort of Biarritz also announced face masks would be compulsory in their city centres starting next week.
The US economy shrank by an annual rate of 32.9% between April and June, its sharpest contraction since the second world war, government figures revealed on Thursday.
China recorded its highest daily total of new Covid-19 cases since early March, the vast majority of them in the north-western region of Xinjiang. Nationally there were 127 new cases, including four imported and 123 local transmissions. There were 112 in Xinjiang and 11 were in the eastern province of Liaoning.
Vietnam has reported 45 new coronavirus infections in the city of Danang, marking the country's biggest single-day jump in cases, as the health ministry sent more health experts to the central city in a bid to combat the outbreak.
Updated

Muslims, wearing protective masks as a precaution against infection from coronavirus today gathered for the Eid al-Adha prayer inside the Byzantine-era Hagia Sophia, recently converted back to a mosque, in the historic Sultanahmet district of Istanbul.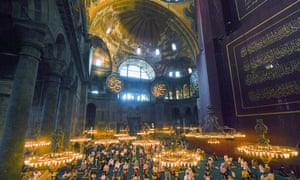 India's Bihar state is battling the twin treat of the coronavirus and devastating monsoon floods, AP reports.
The floods have swamped large parts of the densely populated state and displaced more than 300,000 people as of Friday.
Every year the state faces flooding by rivers originating in neighbouring Nepal that affects millions, but doctors and experts said the bigger worry this year is the rapidly spreading coronavirus.
So far, Bihar has recorded 48,197 cases including 282 deaths.
Thats a far lower death toll than other densely populated states that are witnessing a sharp rise in cases, but with experts warning of multiple peaks in India, Bihar could be facing an uphill task to halt the virus.
The World Health Organization recommends one doctor for at least 1,000 people, but in Bihar, the ratio is about one for every 17,000.
The state is also falling short on testing and has only recently increased daily testing capacity from 10,000 to over 14,000.
Lithuania to impose quarantine on arrivals from France
Lithuania said it will impose a two-week quarantine on travellers arriving from France starting Monday after a surge in coronavirus cases there, AFP reports.
The Baltic state's chief epidemiologist Loreta Asokliene told reporters Friday that France is the latest addition to a Lithuanian list of countries that have seen at least 16 new confirmed coronavirus cases per 100,000 people over the last two weeks.
The updated "black list" requiring all incoming travellers, including Lithuanian citizens, to self-isolate for two weeks will include 12 EU member states as of Monday, she added.
The others are Austria, Belgium, Bulgaria, Croatia, the Czech Republic, Luxembourg, Malta, Portugal, Romania, Spain and Sweden.
France's seven-day average of new Covid-19 cases has risen above the 1,000 threshold for the first time since the first half of May, when it eased its lockdown.
French health authorities reported 1,377 additional confirmed cases of coronavirus on Thursday, one day after identifying 21 new clusters, bringing the total to 147.
People who had visited Italy accounted for more than a quarter of the first reported cases of the new coronavirus outside China, according to a new study that found most initial infections were linked to just three countries, AFP reports.
Researchers from the US Centers for Disease Control and Prevention used publicly-available data to trace the early spread of Covid-19 to dozens of affected countries in the 11 weeks before the World Health Organisation declared it a pandemic.
They found that 27 percent of all the first reported cases were people with travel links to Italy, while 22 percent had been to China and 11 percent had travelled from Iran.
The study, which was published in the journal The Lancet Infectious Diseases this week, found that overall three quarters of the first cases in affected countries were linked to recent travel.
Other initial cases were travellers from Southeast Asia, Europe, Africa and the Americas.
Researchers examined online reports from health ministries and other government agency websites, social media feeds, and press releases for information on first cases and early outbreaks.
Germany adds three Spanish regions to list of high-risk destinations
Germany has added three northern Spanish regions to its list of high-risk destinations, meaning anyone arriving from those areas will have to produce a negative coronavirus test or go into quarantine for 14 days.
Germany's foreign ministry said it had toughened up its warning against travel to the regions of Catalonia, Navarre and Aragon following a spike in COVID-19 cases there.
The move comes after Germany's Robert Koch Institute (RKI) for disease control added the three regions to its high-risk list.
"A mandatory quarantine can only be avoided through a negative COVID-19 test," the ministry said.
The ministry had on Tuesday already advised against non-essential travel to the three regions but Friday's tightened restrictions underline the growing alarm about returning holidaymakers bringing the virus back with them, AFP reports.
The affected regions include the tourist hotspots of Barcelona and the beaches of the Costa Brava.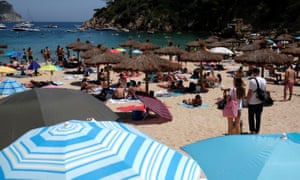 Updated

Spain plunged into recession in the second quarter after its gross domestic product tumbled by 18.5% due to the pandemic, official figures showed on Friday.
In the first quarter, growth had fallen by 5.2%, the Institute of National Statistics said (INE). A recession is commonly defined as two consecutive quarters of a contraction in GDP, AFP reports.
The first of estimate by INE is broadly in line with the forecast by the Bank of Spain which had seen a contraction in the economy of 16-22% for the period between April to June at the height of the lockdown when all non-essential activities were halted.
The restrictions imposed under the state of emergency, which began in mid-March, were only gradually lifted in May and June.
The business, transport and hotels sector were all badly hit, with a 40% drop compared with the first quarter.
And tourism, a pillar of the Spanish economy which accounts for 12% of GDP, suffered with a 60% drop in revenues compared the same period in 2019.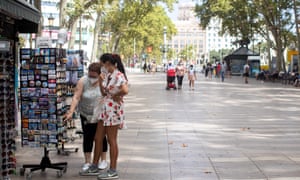 Updated



Sahred From Source link World News